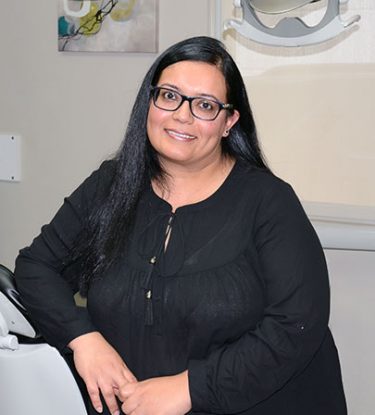 Dr. Gurpreet
Gill
General Dentist
My choice to become a dentist is one of the most rewarding decisions I have made. I love the professional relationships that I develop with our clients. I always knew I would do something in the dental field when as a teenager I would pull out my younger cousins baby teeth. I grew up in Calgary which is the only home I know. In 1999, I graduated from the dental hygiene program at the University of Alberta with a diploma in dental hygiene. I didn't stop there…I decided to continue on and get my Doctor of Dental Medicine degree. In 2004, I graduated Goldman School of Dental Medicine at Boston University. My dental office Expressions Dental™ has become a second home for me as the members of my dental team are like my family. We spend one on one time with our clients and offer personalized service that is only suitable to him/her. We take care to explain our treatment plans and make ourselves available to address any questions or concerns. We are a preventive dental office and want to see good oral health for our clients.
Latest
Blogs
When Does Your Tooth Need a Dental Crown?
Often, dental issues might leave you with cavities that are too large to fill, or sometimes, the tooth is cracked, worn or weakened. In such cases, a dental crown may be a necessity. Sometimes, two or more dental crowns can be used on either side of missing teeth with artificial teeth attached to the crowns.
Read More
Dental Care During Cancer Treatment
Your dental care is also an essential part of your overall cancer treatment. When you are diagnosed with cancer, make sure you let your dentist know about your treatment so he/she can update your medical history. Also, ensure to share your oncologist's name and number with your dentist. This is because your cancer treatment can
Read More