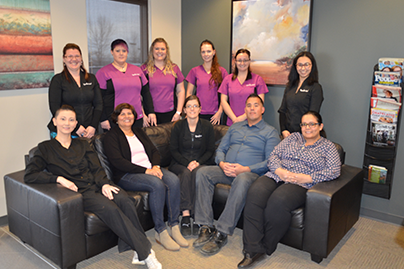 About Expressions DentalTM
Expressions DentalTM is a general dental health care clinic and it's dental office is located in the Crowfoot Center of Calgary NW providing comprehensive dental health care services. At Expressions DentalTM, our dentists truly believe that everyone should have a healthy smile, teeth and gums for life. The dentists working at this clinic are Dr. Gurpreet Gill, Dr. Dionysius David, Dr. Jennifer Li and Dr. Neerja Khosla.
Why Expressions DentalTM?
Besides providing you with a wide range of dental services at our dental office in Calgary, our dentists also work and educate to provide advice to improve your current dental situations and minimize the need of future interventions. At Expressions DentalTM, we want to maintain an ongoing relationship with clients and strive hard to make each visit as comfortable as possible. Our team looks after the following dental problems: Fix misaligned teeth using Invisalign, root canals, discolored teeth with ZOOM Teeth Whitening, dental implants, dental veneers/crown/bridges, and dental treatment on an emergency basis.
Dental Treatment for a Healthy Mouth – it is essential to take care of your precious teeth by consulting a dentist in Calgary. A healthy mouth can have a positive impact on your mind, body and overall social well being. If you are thinking that you want to improve the health of your smile than book an online appointment at Expressions DentalTM and get dental services and treatment customised to you.